Roof maintenance should never be overlooked
Like anything, your roof has no lifespan. It should be taken care of regularly or monitored. Roof repairs should never be considered an easy DIY project. This simple fix will help you quickly and effectively, but it is never the best long-term solution. You may even damage your roof. Generally leaky roof problems appear harmless. Leaky roofing can affect your home badly. In addition to the above there are the chances that unless you can fix the problem instantly, you can forget about the issue.
If your roof hasn't been checked yet, it should. Those with roof maintenance often overlook this matter, except if there is a gaping hole in their walls. Fortunately smaller items can solve a greater problem. We pride ourselves on taking all home projects seriously, from beginning to end. Our technicians can help fix your roof leakage completely. Our roofer crew in St. Augustine can handle all problems efficiently, and you can relax knowing your roof will remain secure.

How often do we renovate our houses and forget about rooftops? Roof maintenance is often overlooked unless there is severe damage, but honestly, we do not have to wait to reach this point. Like the paint in our houses fade or windows breaking, it is normal for even our rooftops to age since they cannot last forever.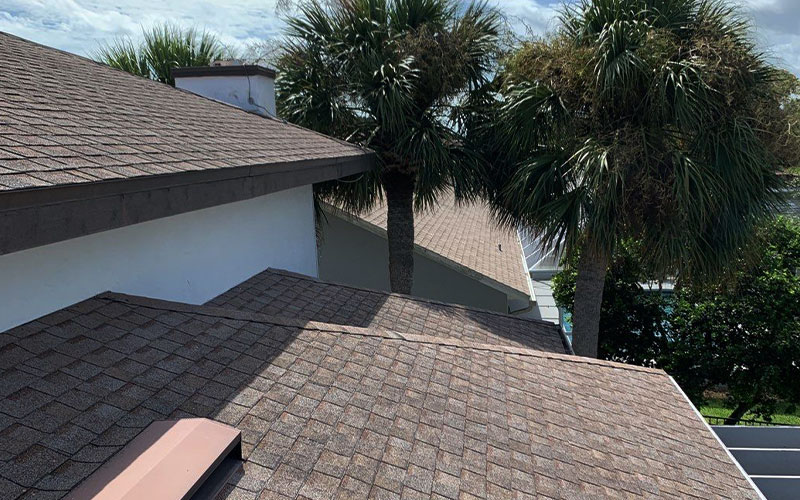 It is common that when we see a leaky roof, we patch up the leaky area. It seems easy, right? This is just a short-term solution because, over time, there will be more leaky areas, which attract mold and mildew to form around your house, hence posing health hazards. 

If you have been having questions about roof repair tips, this is the right article. It will answer all your questions.


Here are 12 roof repair tips:
Inspect your roof as often as possible for any signs of damage, such as missing shingles or cracks. This is very important to note, especially for people who live in areas with severe weather conditions.

Conduct regular tree trimming for the trees close to the house to remove the hanging branches. They are a significant contributor to roof leaks.

If you discover any cracks or gaps in your roof, seal them up immediately to prevent further damage.

Install a gutter guard system. It is crucial in preventing water leaks.

Install a ridge vent. It aids in removing hot air and moisture from the attic, hence preventing leaks.

Check for ice dams. They occur due to melting snow freezes around the roof's edges, forming a barrier that blocks water flow.

When removing the snow debris on your roof, use a roof rake as they are the safest and easiest for us compared to any other tool.

Use of a good gutter cleaner. Gutters get clogged with leaves easily and eventually cause them to suffer leaks.

Check the sealant around the chimney regularly and replace it when necessary.

Always watch out for the flashings and ensure they are in good condition. Flashings are metal strips used around roof penetrations like vents.

Check for signs of water damage, such as molds.

In case you suspect a roof leak, contact a professional immediately. These are experts with the know-how of identifying the source of the leak and repairing professionally to prevent severing the damage further.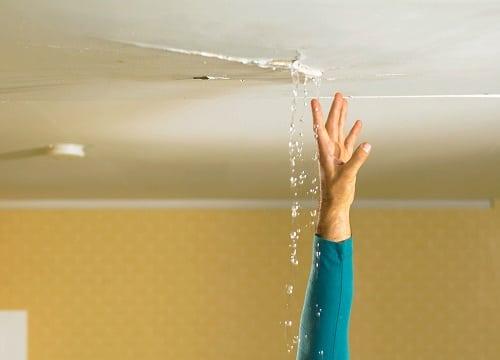 How and when to fix the leaking roof.
Have you ever wondered how you can find leaks on your roof? Tracking down a roof can be tricky sometimes. The first element to look for is any roof penetrations. Often it is rare for leaks to develop in open areas of uninterrupted shingles or even on older roofs. Projects that go through the rooftops are the most likely to cause leaky roofs, including plumbing and roof vents, chimneys, dormers, etc. Usually, leaks have leaky water stains, black marks, or mold.

Some leaks are challenging, but here is a tip on finding such leaks. Call a friend or a helper and have him stay in the house. You go to the rooftop and start low, soaking the area just above where the leak appears in the place. Allow the hose to run for an extended period, and tell your friend to signal you when he sees a leakage. Although it may take much of your time, do not move the hose quickly as you will not get results.

Water shows up at the ceiling spot distant from the leak, but it is tough to relocate the leak. If you cannot see any flow marks, look at the underside of the roof for any 'shiners.' Shiner is a nail that missed the framing member. Such nails are easy to spot at night when the nails are frosted.

The answer to when to fix the leaking roof is immediately you notice leaks. Let us look at how to fix some rooftops.

How to fix roof vents. It is always easy to ignore or assume the problem, but the solution will not last long. There is no other reliable fix other than replacing the damaged vents. It is important to watch for the missing nails at the base's bottom edge and replace them with rubber-washed screws.

Fixing walls and dormers. Dormer walls provide a lot of spots where water can dribble down and enter the roof. Often wind-driven rain comes from above the roof through the windows, between corner boards, or through cracks and knotholes in siding. Caulk can be old, cracked, or missing between the window edges. Replace any cracked, rotted, or missing siding and make sure the new piece overlaps the step flashing by two in one.

Fix step flashing. This is common on walls that intersect the roof. If the flashing rusts through or a piece becomes loose, water will run behind it. It can be replaced by removing shingles, prying siding loose, and replacing the step flashing.

Leaked brick chimneys can cause a lot of bad things to happen. A quick fix is to slip new flashing under the old rusted stuff; any water that penetrates through is diverted. This is not a long-term solution. One can, however, install new flashing.
Roof Repair & Replacement Services
We repair flat roof repairs for commercial buildings. We don't have jobs we think are too big or small. Our North Florida roofing contractors are experts on the job! We can cover any style of FL-based Roof. Asphalt & tile roofing, concrete roofing, metal roofing slate, cedar shake. Let Elite Remodeling Services inspect your home and recommend the most appropriate roof to suit you.

Roof Repair St Augustine FL
Are you having trouble finding the best roofing contractors to trust? Worry no more because Saint Augustine FL roof contractors got you covered. Saint Augustine ranks as the oldest city in Florida, based on the Northeast coast of Florida. Saint Augustine roofing contractors provide services for any roof problem such as roof repairs, asphalt shingle roof replacement, and metal roofing.
The best rated Saint Augustine roofing company, Golden Hammer Roofing, always puts the customer's needs first. It is made up of professionals that help with any roof problem, no matter how big it is. These St Augustine roofers do not take roof-related business matters lightly; this is clear proof that you will be receiving top-quality service from them. This means that they do not leave any work undone. If that is not convincing enough, they have over ten plus verified reviews and an overall five-star rating on their website. 
They ensure that your leaks are repaired, and if the roof needs to be replaced, it is completed on time. If you have any roof problems you wish to fix, visit their website or contact their services and get a free estimate for your roofing project.
Golden Hammer Roofing, St Augustine, has one of the best-rated contractors in FL specializing in roof repairs and all roof services at an affordable price. They offer quality work at competitive prices. They are available at any time to all their customers. Eighty percent of their services are complete referrals, indicating that they are a good deal with a BBB rating.

Roof Repair
Earlier in this article, we have discussed roof repair tips exhaustively. It is crucial to call a professional contractor for your roof problems. It is convenient, safe, and reassuring.

Roof repair DIY is an advantage to homeowners because it is cost-effective. After all, they don't have to pay a contractor. However, this causes more hazardous damage if not fixing repair correctly.


Roofing Contractors
A roofing contractor is a person who specializes in roof construction. In our changing world today, we have so many new contractors being introduced, making it tricky for customers to know who to hire for roofing for your roofing services. 

When hiring a roofing contractor, start by asking your friends or homeowner association whom they recommend. Check if the recommended contractor meets all the requirements and directories for your state and read the reviews. You may also compare the prices between the recommended contractors to check which suits your budget. 

A good roofing contractor must have the qualifications as listed below; 
• Experienced
• Licensed 
• Insured 
• Willing to provide references

There are two types to consider when hiring a roofing contractor: independent contractors and a roofing company. Independent contractors work alone or with subcontractors. They are very quick with repairs; however, they take time to complete large projects.

Roofing companies quickly fix large jobs, have their work covered by manufacturer warranties, offer discounts, and work with more materials. Such offers are available in each phase.

Always ensure that the roofer you choose has the right qualifications.


Roofing services 
We have discussed all the roof services, including the leaky roof and roof replacement. It is advisable to involve professionals, especially if you have any concerns or roof problems. Although most residential owners see that repairing the roof on their own would be cost-effective, they lack the expertise to deliver quality roofing services. Working with Golden Hammer Roofing lets you worry less about paying a general contractor. Instead, focus on buying the materials.
Yes, it seems reasonable, but you tend to risk causing more problems. Roofing services ensure that your home project plan is their priority. The best top-rated roofing services agencies are all available on the website. You might even search for the ones with the top BBB ratings.


Roof Insurance 
It is rare to find people paying for roof insurance; however, it is as important as paying for your car insurance. A roof has an essential job of protecting you from rain, winds, tree hits, etc. Roof insurance forms part of your building insurance policy. It pays for repairs to any damage caused by fire, storm, or lightning. This is very convenient, primarily when an emergency occurs and you have no budget. Note that roof repairs alone could cost you a lot of thousands.
Contact your insurer immediately if you need to claim your roof insurance due to damage to your roof. To ease getting your insurance covered, you need to provide evidence of what happened and prove that the roof has been regularly maintained. The insurer instructs a loss adjuster to visit your home to make a large claim. You also have the option of having an independent loss assessor to help you with your claim. We help you with this process once you contract Golden Hammer Roofing
For further inquiries about your roof insurance, check your insurance company's policy documents and find out exactly how to do it and what not to do.

Golden Hammer Roofing has been taking care of your roofing for years
Golden Hammer Roofing understands that your North East FL home is your biggest asset, and as your preferred roofing contractor, we want to work with you to make sure your roofing systems stay dry, comfortable, and beautiful. In case of any roof works: whether residential roofing, commercial roof, metal roof, gutter works, installing new roof etc., you can contact your top roofing contractors on (904) 880-2004. We are one call away from your roofing needs and do an excellent job for your roofing project. We are located in Jacksonville, Florida 6671 Hyde Grove Ave, Jacksonville FL 32210, and our hours of operation are from Monday to Friday between 9:00 AM and 5:00 PM.
Local Roofers You Can Trust
Keeping our clients' homes & business roofs clean is our usual practice. When an estimate comes out on the job, a trained professional staff is ready to assist in making it happen. Our customer-driven approach exceeds expectations and focuses on detail. Tell us how we are achieving quality of craftsmanship in this area. It is a great community! Call us anytime to schedule a quick and accurate roof repair.