Consider Metal Roofing And Why It Matters
As any homeowner or business owner is well-aware, it is critical to have a solid and reliable roof on any building to keep the people and things most precious to you safe and secure from the outdoor elements. A roof is the first line of protection from harsh weather, falling branches, and anything else that may be in the sky, so the roof must remain in tip-top shape.

Sometimes, a roof inspection may determine that you need roof repair done as part of regular maintenance. If a small crack in a seam is visible or a few asphalt shingles have come loose or are missing, a roofing contractor in St. Augustine, FL, can easily repair the issue. However, if there is major damage or your roof is old enough to start showing its lessened integrity, it may be time for a new roof installation.

One of the many roofing systems available to you for just about any type of building is a metal roof. Metal roofing has been around in the United States since the Revolution, but it has grown in popularity recently since materials are easier and cheaper to acquire. Most people have heard of asphalt shingles and wood shake, but metal as a roofing material has only recently become more popular with homeowners and business owners alike.

At Golden Hammer Roofing, our team has served Northeast Florida for over 30 years. Our St. Augustine, FL, roofing experts are happy to discuss all of our metal roofing services and the many benefits of metal roofs if you consider investing in metal for your roof replacement. Contact us today to request an estimate for your metal roof installation project.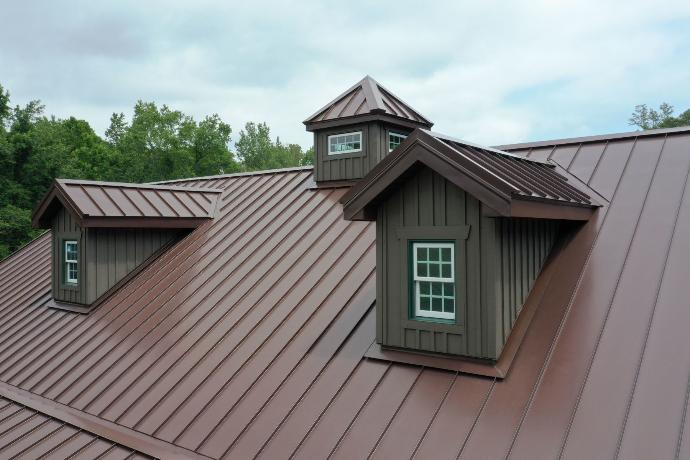 What Is a Metal Roof?
Metal roofing is an alternative to other materials commonly used on roofs, such as asphalt shingles and wood shake. In St. Augustine, FL, metal roofing is made from large, thin sheets of coated metal which are screwed onto the roof.

As with many other aspects of the construction industry, a few different metals can be used as a roofing material, depending on your personal preference and needs. Your options for metal roofing include:

Steel: With steel, you get strength and temperature resistance.

Zinc: Added to steel and other metals, you get improved resistance to corrosion.

Aluminum: If you are looking for resistance to corrosion and the ability to be recycled, aluminum is the way to go.

Copper: This is very durable and was used frequently before other metal roofing material options became available. It is quite expensive, though.
In addition to the metal roofing material, you also choose the type of metal roof you can have installed. At Golden Hammer Roofing, we can offer standing seam metal roofs, seamless metal roofing, and metal shingles (though they are not as popular as they once were). Our team is here for all of the metal roofing services you may need.

Benefits of Metal Roofs
If you are trying to decide between metal roofing or another material for your roof replacement, the difference may come down to the benefits of metal roofs compared to other kinds. Here are some of the top benefits associated with having a metal roof on your home:
Long-lasting: Probably the number one benefit of metal roofing is that it can last for more than 50 years. And 50 years is about 5 times the lifespan of other roofing systems such as shingles. Depending on your age, that may mean that you will never have to install a new metal roof on your home again.

Strength and durability: As long as the metal roof installation process was down correctly for your home project, you can count on metal roofing to be strong and resistant to such things as hail damage or being stepped on by roofers.

Minimal maintenance or repairs: Again, as long as the installation process is done properly, you should not have to worry about maintenance or repairs. We still recommend that you have a yearly roof inspection done to be safe.

Reduce your home insurance premium: Because metal roofing is fire-resistant and weather-resistant, having a metal roof installed on your home may end up lowering your insurance rates. Be sure to ask your insurance company if they offer discounts for metal roofs.

Reduction of energy bills since metal roofs can reflect ultraviolet radiation to keep your home cooler in the summer months.
With all of these great benefits associated with metal roofs, there is no reason not to consider it for your St. Augustine, FL, home, or business.
Should I Hire Metal Roofing Contractors to Install My Metal Roofing System?
In short, yes! Metal roofs need to be installed very carefully, and the metal roof materials need to have particular qualities.
If the metal is not the right thickness, does not have the right flexibility, or is too heavy, your metal roof could cause serious problems for you in the future. In general, a metal roof will not need much in the way of roof repair unless installed improperly.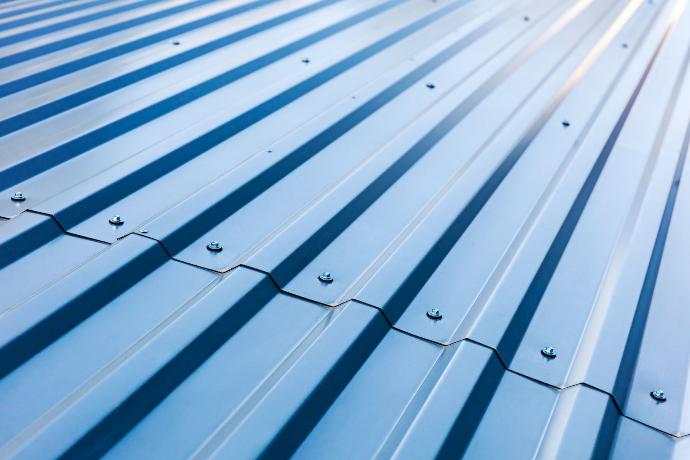 When you hire a trained roofing contractor such as ours at Golden Hammer Roofing in Saint Augustine, FL, you can rest assured that your metal roof will be installed correctly and efficiently. We also recommend that, in addition to hiring a roofing expert to install the metal roof, you should also learn the best practices for installation. That way, you can determine if your metal roof is being installed correctly and ask questions regarding your sturdy roof's warranty.

Contact Our Saint Augustine Roofing Contractors
At Golden Hammer Roofing, our metal roof installation experts are here for all of your roofing needs. Whether you need a complete replacement or roof repair work, our team is there. We have dedicated our business to ensuring customer satisfaction at all costs, so we always do an excellent job.

Contact us today to get a free estimate on installing your new metal roof in Saint Augustine, FL.