Roof Maintenance Dos and Don'ts

If your Florida home requires roof maintenance, we have a few things you'll want to keep in mind. Homeowners may know about routine maintenance within the interior of their home, but maintenance to the roof is one of the most important steps a homeowner can take to safeguard the investment they've made into their property. Both preventative and routine maintenance is essential, but well-meaning homeowners can make some mistakes. Here is a list of do's and don'ts when it comes to roof maintenance: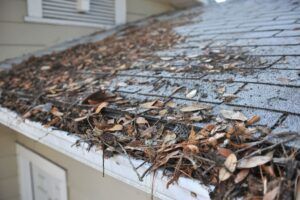 Dos: Essential Things to Keep in Mind for Roof Maintenance
Make sure to inspect the roof of your home at least twice per year. Most homeowners don't realize they have a problem until water starts leaking through their ceiling, and by then, it's too late to prevent a roof problem. An easy way to remember when to inspect your roof is when you have to change your clocks to adjust for Daylight Savings Time in the Fall and again in the Spring. Checking at these times helps to identify any problems that may have been caused by Summer storms or Winter cold. Also, make sure to look for any missing shingles, clogged drains, or debris stuck on the roof of your property. Any unusual issues with your roof can then be identified and addressed before an expensive problem arises.
 
Take a look at your roof after unusual weather occurrences. Jacksonville is an area commonly affected by severe storms or hurricanes, so it's essential to check your roof for any damage or debris immediately after these weather occurrences so that any repairs can be made as soon as possible. A common mistake homeowners make is not being aware of a roofing issue for weeks or even months. Take a look at your roof and ensure everything is in working order after an unusual weather event.

Keep your roof drains and gutter systems clear of debris. A common mistake by homeowners is not checking their drains as long as the drains look ok from the ground. So many gutter and drain issues cannot be seen from the ground looking up. It's essential to look at the drains and the gutters up close to ensure they are not blocked by any debris, leaves, pine needles, or small sticks. Taking care of your drains and gutters will prevent a backup in the drainage system and make your roof last longer.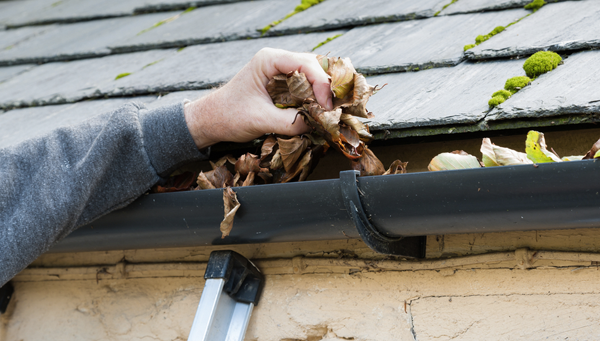 Take time to research qualified roofing professionals when you need roof repairs completed. Many times after severe weather such as a hail storm, people from less than reputable roofing companies, or even self-contractors, will solicit business from hard-hit areas. It's essential to look for the signs that a roofing company is reputable and trustworthy. Usually, a company that has been in business for a long time is a good sign that they've completed quality work in the area.

Researching Google reviews from actual customers will tell you how others' experiences have been with that company. Looking for an A+ rating from the Better Business Bureau is a sure sign that the business is reputable and trustworthy. Finally, ask if a company is certified lead-safe from the EPA will tell you how seriously the business treats safety in their work.

 
Don'ts: What Not to Do When it Comes to Roof Repairs
Don't attempt to make serious repairs to your roof if you aren't certified and trained in roof maintenance. Many people underestimate the complexity of repairs that need to be completed on their roofs. Trying to save money on repairs by doing it yourself can cost you much more money than if the repair was completed by a trained professional. There are many home projects and repairs that homeowners can do; fixing a roof issue is not one of those repairs. Leave it to a professional and receive peace of mind in return.

Don't pressure-wash your roof. With the increasing popularity of power washers, many homeowners are investing in powerful power washing machines to spruce up their home exteriors. However, it is essential to know that your roof is not one of the parts of your house that can be pressure washed! Pressure washing your shingles can loosen the granules on your shingles and cause them to become brittle. Some older shingles could even be blown off with a power washer. Pressure washing your roof can seriously shorten the life of your shingles and even void warranties on work and materials purchased for your roof. Keep the pressure washing to approved surfaces and avoid using a power washer on your roof, or you'll risk damage like this: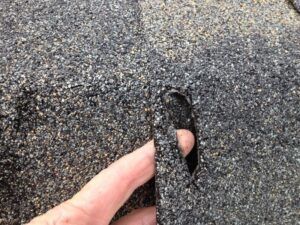 Don't allow unqualified people to access or repair your roof. This is one of the most common mistakes made by homeowners. Trying to save money by hiring an unqualified person to maintain or repair your roof can end up costing more money. Instead, ensure that any repairs done to your roof are completed by seasoned professionals who can guarantee their work. When a professional and reputable company completes work, they will have a record of all repairs completed on your roof. They will also be able to give you a timeline of when future repairs and maintenance be needed.

Don't wait until it's too late to call a professional. Instead, schedule an appointment with Golden Hammer Roofing. We've been in business for over 35 years, have an A+ rating from the BBB, and were named one of the Best Roofers in Jacksonville out of 317 roofing companies by Expertise.com!

 Ensure your roofing and repairs are done right the first time and avoid costly mistakes made by others. We'll take care of everything and give you peace of mind that your repairs were done right.