Metal Roofs
Golden Hammer Roofing is a trustworthy metal roofing company in Jacksonville, FL. We are part of a national network of metal roofing contractors that provides homeowners like you with factory warrantied metal roofing systems. We are different from most roofers in Florida who offer metal roofing alongside alternatives like shingle or Modified Bitumen. Metal roofing is a specialty for us. Our professional installers understand the intricacies of installing metal roof panels.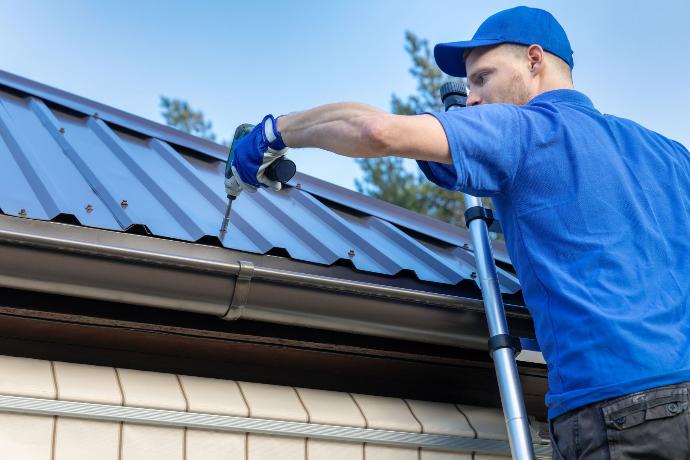 A Top Metal Roofing Service
Expect us to offer you superior metal roofing panels, do a great job and provide you with the highest level of support to make your new roof last longer. Our installers are certified roofing professionals with vast industry experience. They pay attention to detail and use the best roofing techniques and tools during your flat roof or metal roof installation. Call us at (904) 880-2004 to schedule an appointment or home visit today.
Metal Roof Installation
Are you building a new home? Why not crown it with the durability and appealing looks of aluminium roofing provides? Golden Hammer Roofing offers various styles and colors, giving your new home a maintenance-free roof that you may not need to replace in your lifetime. We are a reputable metal roofing contractor with vast knowledge and expertise in Galvalume and aluminium metal roof installation. We provide contractor warranties for our house roofing projects as we are confident in the products that we offer in Jacksonville. Contact our team in Jacksonville Florida at (904) 880-2004 or fill out the online form and we'll get back to you with your requests.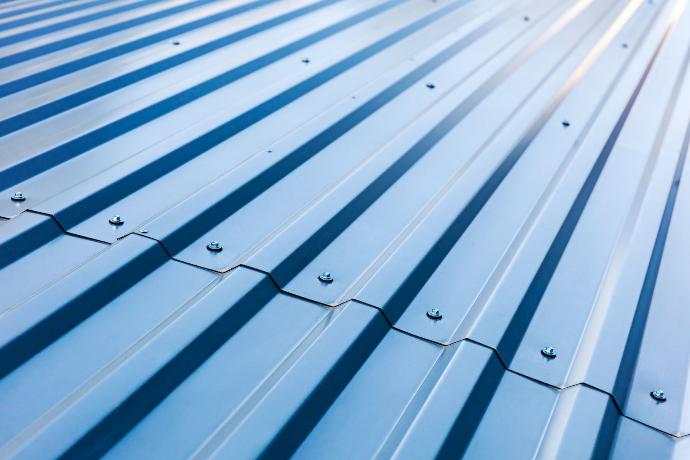 How we install metal roofs

A typical metal roofing installation is made of metal panels and fastening systems. Each panel is fastened securely onto the roof's structural deck. Drip edge is not usually necessary with metal roofs Depending on your project requirements, exposed fasteners may or may not be used for trim applications.

Fastening ensures the panels can expand and contract freely when temperatures swing from hot to cold. End wall flashing is usually applied where the upward slope meets the wall. Your metal roofing is engineered for your roof's slope or pitch. This makes it effective in shielding your home from water.
Metal Roof Repairs *due to Covid and supply issues we are not currently doing Metal Roof repairs

Already have an existing metal roof over your home or commercial property? Golden Hammer Roofing also provides professional metal roof repairs in Jacksonville Florida. Whether the existing metal roofing was poorly installed or recently experienced extreme weather conditions, we can fix your roofing issues without compromising the look of your roof. If your roof is beyond repair or approaching the end of its service life, we can replace it with a beautiful, durable roof that's less prone to salt water and physical damage, saving you money.

Contact the installers at Golden Hammer Roofing in Jacksonville FL for same-day metal roof repairs. Our crew will arrive at your home or premises promptly and with the essential tools and equipment. They can resolve your roofing issues including leaks so your home remains energy efficient and the envy of your neighbors. We are sure you'll be satisfied with the results at the completion of your repairs.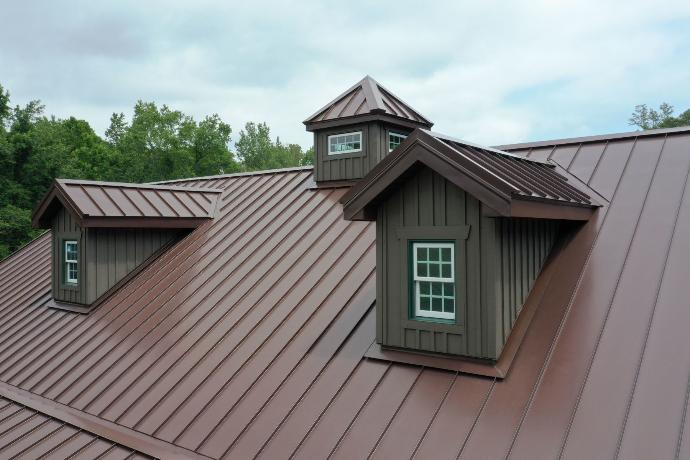 Benefits of a Metal Roof
Metal roofs are no longer mere alternatives to common roofing materials like bitumen and shingles. They have proven themselves to be a super choice for residential roofing due to their remarkable qualities. Check out the benefits of installing metal roofs over your home.
Strength : Metal roofing doesn't split, crack, rot or warp. Because of their high-strength steel panel configuration and panel size, metal roofs can enhance the structural integrity of your roofing system in a way other roofing materials won't.
Aesthetics : Metal roofing systems are beautiful and available in a range of colors and configurations to suit your architectural needs or budget. You can choose from various styles that look like ordinary roofing material including tile, asphalt, or shake.
Life expectancy : With proper installation, metal roofs in Florida easily outlast asphalt shingles in North East FL. The longevity of metal allows you to recoup up to 85.9% of your investment over the roof's life.

Energy efficient: Metal roofing reflects and absorbs heat better than other materials, translating into lower cooling costs for decades.
Sustainable : Metal roofs are made from recycled materials. They can also be recycled completely at the end of their long service life rather than being disposed of into a landfill.
Light weight : Metal roofing weight is just a fraction of competing materials. This puts much less stress on the property.
Weather resistance: metal roofing systems with steel-proof panels can withstand inclement weather in Jacksonville Fl. Reliable and strong, metal roofs won't corrode and will protect your home against high winds, hail, snow and rain that often leads to corrosion. If within 1500 feet of brackish water Aluminum is highly recommended.
Low maintenance: Aside from being impenetrable to moisture, standing seam metal roofs require little maintenance, unlike other roofing materials. The only necessary task is removing leaves, twigs and debris, which is one once a year.
Want better energy efficiency or weather protection? Install a metal roofing system
Whether you want a new roof installed or existing metal roofing panels replaced, we can assist you to overhaul your roof at the right price. We source the material from our own sheet metal shop and can recommend siding contractors. We shall give you a breakdown of the roof cost and tell you what accessories are needed and how long the roofing process takes. Our team will complete the job in a timely and professional manner. Call Golden Hammer Roofing at (904) 880-2004 to request a free estimate of our services to book us for your next roofing project.