The Benefits Of Professional Roof Repair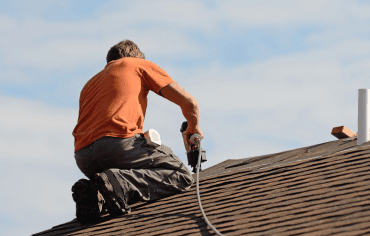 DIY may look like the best option; it seems cheaper and faster. However, if you have a roof repair project on your hands, making it a DIY project can be a bad idea. 

On the surface, it seems like an opportunity to save money, but it isn't. There are specific areas of your roof that require the services of a trained hand. Trying to handle those aspects on your own can cause you to make costly mistakes.

Unlike many parts of your home, your roof is one aspect you don't want to mess with. It offers protection from intruders, natural elements, and pests. When installed correctly, it also helps to conserve utility bills and provide more value over the long term. A damaged roof can allow air to escape/penetrate the home, thereby driving up utility bills as your HVAC system works harder to keep up.

Furthermore, the cost of getting the right equipment, tools, skill, and safety gear can be a lot to handle. As if that is not enough, you could spend most of your time figuring out what goes into where with DIY guides. This could be a time waster and even lead to you abandoning the project midway to attend to your other businesses. 

What are the pros of hiring a professional roof repair contractor? Here are six answers to that question.



Roofing experts
Your roof deserves the best treatment and attention. When done right, your roof can last up to 25 years or even more—hiring professional roof repair contractors if you want your roof to last that long. They are master roofers who know how to make repairs that will keep your roof safe for many years.

Our roof repair professionals at Golden Hammer Roofing have dealt with roof repairs, roof leaks, missing shingles, roof replacement, and more.

If you are looking for effective Jacksonville roofing contractors that can meet needs related to roof vents, provide transparent roof repair cost estimates, and address everything from flat roofs to storm damage, then you want to make sure to call the best in the Jacksonville FL area.

Our roofing company has helped with small roof repairs, tiles, roof trusses, cracked flashing, and even emergency repairs. The local community reaches out to us for full roof replacement because they know they can trust us with their sagging roof and leaky roof problems.


Safety
Roofing accidents are more common than you think. Simply climbing a ladder comes with its risks. Add that to the dangers of handling dangerous tools and working on a compromised roof system, and you have a lot of issues to consider. A roofing accident can cost you far more time and money than you would ever spend hiring professional roofers.

Professional roof repair contractors use special equipment, safety measures, and protective gear to ensure their crew is safe throughout the installation or repair process. 

They also know how to move around an unstable roof to minimize the risks of accidents. If any accident happens, they have sufficient insurance to cover the injuries. When it comes to safety concerns, hiring a roofing contractor is a smart move.

Expertise You Can Rely on In Jacksonville FL
Installing or repairing a new roof is more than climbing a ladder with shingles. There are special techniques used in installing shingles to ensure they last long. Plus, other roof system components, such as the decking and underlayment. You don't see them, but they are essential in preserving the integrity of your roofing system. Only a professional roofer can tell you if they are compromised or not.

Professional roofing contractors know all about these components and techniques because it's their job. They stay abreast of installing different types of roofs and the latest roofing equipment. They also know all the possible mistakes when working on a roof and how to avoid them. 

Warranty
Professional roofing contractors offer a warranty on all roof repairs and installation. If something goes wrong, you can call them to review the job. If they are at fault, they will fix the issue at no extra cost to you. The best part is things rarely go wrong when you hire a roofing company like ours to repair or install your roof.

On the other hand, if you make mistakes while carrying roof repairs on your own, you'll have to spend extra money to fix the issuers.

Remember that the keyword here is "professional roofing contractors". The top roofing contractors will ensure to provide you with top-level services when it comes to your skylight leaks, asphalt shingles, and general roof issues,

They will respect the roofing business and ensure to stick around for their customers regarding hail damage, clogged gutters, damaged shingles, and more in the Northeast Florida area.




Minimize Costs
You are probably rolling your eyes at this point but consider the following. First, a professional knows the actual price of roofing materials in the market. They also know the best quality and the most reliable suppliers for every roofing material on the market. As such, they can always get quality roofing supplies at prices lower than you would. 

Professionals also have special roofing equipment, tools, and materials for all kinds of roofing projects. Many of these pieces of equipment cost thousands of dollars to purchase and require regular maintenance. It would be impractical for you to buy this equipment unless you set up shop as a roofing contractor.

Lastly, we know how to fix roofs. It's our job. Do you know what that means? Zero wastes and minimal margin for error. We rarely make mistakes, and we don't waste material. In the end, you'll spend less with us than you would if you decide to carry out the project on your own.


Peace of mind
Your peace of mind is priceless. Why sacrifice it? Get a team of experienced roofers to handle your roof project while focusing on other aspects. With us handling your roof, you can sleep soundly knowing your roofing problems have been dealt with.

Suppose we detect issues that could create a problem in the future. In that case, we will recommend cost-effective ways to deal with them immediately. With us, you'll always win.


Hire A Professional Roofing Contractor Today!
Is your roof deteriorating? Do you want to repair or install a new roof? Call us now for a free inspection and quotes. We're waiting to help you with your roof needs.

At Golden Hammer Roofing in Jacksonville, FL, we are one of the top residential and commercial roofing contractors in the area, and we truly care about our customers and provide them with roofing excellence no matter what type of job or roofing project we complete.