Tell Fly-By-Night Roofers to Go Fly a Kite

Beware of "Storm Chaser" Roofing Contractors

There are a number of names for these types of fake roofers: Here today, gone tomorrow roofers, fly-by-night roofers, and many times after a hurricane, storm chasers. They're out for a quick buck at your expense. Some are blatant about it, while others are trickier to spot, but if you do your homework and only contract with a local, reputable roofing company, like Golden Hammer, you'll have peace of mind with a quality roof over your head.

One in twenty roofing appointments are affected by these fly-by-night roofers. It's a significant problem in the roofing industry not only here in North Florida, but also nationally. And it's surprising how many homeowners fall victim to it.
I remember one appointment with a homeowner who had signed over their entire insurance check to a bogus roofer who never showed up with any materials, haul-away trucks, nothing. Tens of thousands of dollars, gone. It was heartbreaking.
– Dania Fadeley, Sales Manager, GHR
Some roofing scammers take the money and run. Others show up and do terrible work, cutting every corner possible. This can add insult to injury because improper materials or workmanship will cause leaks that could lead to far greater damage to the structure of the house well beyond the cost of replacing the roof.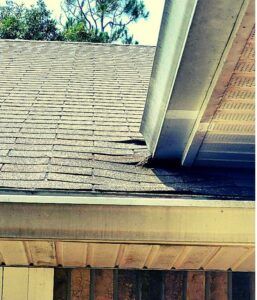 How to Protect Yourself from Fake Roofers
The good news is that there are a number of things homeowners can do to protect themselves against these roofing scams:
Do your research. Make sure you're using a local roofing company that is well established in the Jacksonville area.

Check how long the company has been in business and take time to read reviews.

Be wary of hand-written signs on telephone poles or staked into the ground at intersections.

Check that they are registered with the BBB. (Spoiler alert, Golden Hammer has an A+ rating with the BBB). Keep in mind that a roofer not registered with the BBB is just as bad as one with complaints. This is definitely not a situation of "no news is good news".

Check with the Florida Department of Business Regulation (FDBR) and also Florida's official Division of Corporations to confirm they are licensed and certified.

Ask for proof of insurance and then call their insurance company to verify. Some scammers buy a legitimate policy and then cancel it right after they have "proof" of the policy in hand.

Here on the First Coast, watch out for storm chasers following a hurricane. They often take advantage of the increased demand for roofers during this time, so be extra vigilant.



What if You've been the Victim of a Roofing Scam?

Here in Florida, start by reaching out to the to the FDBR. Their customer service number is 850.487.1395.

Then call Golden Hammer Roofing to get a free estimate and evaluation of your roof.Quality roofs should easily last for 15-18 years. Make sure yours does by calling a local, professional roofing company.