Tips to Choose a Residential Roofing Contractor
Your roof is valuable. It is responsible for a wide variety of benefits. Whether you live in St Augustine, FL, or in another part of Florida, you want to consider a great roof. While you may not need to have a new roof or may not need to invest money in something as specific as metal roofing, it is important to note that proper maintenance and care are critical.

Your roof provides for shelter, and the overall roof system also accounts for efficiency and sustainability.

We know many aspects of the roof system, from its connection to insulation and the gutter system to other crucial elements of your roofing systems in Saint Augustine, FL.

If you look for roofing companies that will account for your residential roofing St Augustine, FL needs, learn more about roofing services today. Our team at Golden Hammer Roofing will bring our roofing experts and professionally conduct quality roofing services.

Contact our roofing experts today in Saint Augustine FL.

Finding Trusted Roofing Contractors in St Augustine, FL is Critical
We know you'd like to invest in a flawless roofing service to avoid roof leakage and other unpleasant consequences of a badly fitted roof. But the problem is, you don't know how to select the right hands for the task, right? 

Choosing a residential roofing contractor for your roofing repairs or replacement needs can be a difficult endeavor. It becomes more tedious if you've never had to source for a roofing contractor or have always ended up with the bad ones. 

We intend to ease your stress by providing helpful tips on selecting the best roofing contractor from several alternatives.

The tips are laid out below.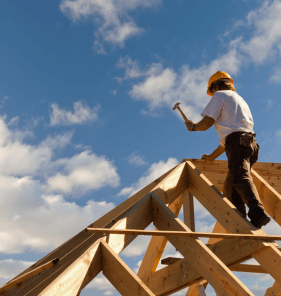 Professionalism is key
Only seek out contractors who are professionals at what they do. Choose duly licensed and certified roofers over those without anything to tender for their professionalism. Once you contact them, ask about their license and other valid documents that attest to their professionalism.

Mind you, that a roofing contractor operates with a license does not mean that he's good at what he does. What if the license had been forged?

Thus, only opt for contractors who operate with an official license issued by a recognized authority to avoid such. This type of license shows that they've been duly trained and recommended for the job.

Go Local For Your Roofing Needs in Saint Augustine
You can minimize the possibility of running into issues when you source for your roofing contractor locally. It's better than getting contractors from elsewhere. Reputation is what has led you to them in the first place; they will try to do a good job to keep it intact.

Apart from this, local contractors can get you a good deal with suppliers since they are familiar. They also know how to operate in line with community legislation.

We are not trying to discredit roofing contractors who are not from your community. We are only saying that it's better to go for known contractors than gamble on unknown ones from far away.

The top roofing contractors in your area will conduct roof repairs and roofing services similar to those who may be from out of town. The critical difference is that they will be around in the Saint Augustine area after they conduct roof replacement on time.

This means that if you need a free estimate on another project or have questions about the roofing materials, or the roof installation, you can reach your trusted roofing contractors. They are right around the corner and will be there for you in a timely fashion when you need them.


Take a Peek into the Contractor's Previous Projects
Another fantastic tip to getting the best roofer is to do some research on selected contractors before hiring. One best way to go about the research is to look them up on credible review websites online.

You can only find online reviews for roofing contractors with an online presence. For those who are not online, ask about them from friends and neighbors who have engaged their services at some point.

Whichever method you use, ensure to be double sure about your choice. Doing your research right will help you to avoid amateurs.


Ask questions
When you sit to converse about your roofing project, don't just sit without asking questions about grey areas. Be clear on what the roofing contractor intends to do. Ask about his plan, methods, timing, and quality of materials.

This is even the point to engage the contractor about previous projects. A professional roofing contractor should have an archive for completed roofing projects.

Politely ask for pictures of completed projects to check the quality and standard of the jobs. Make a rational decision based on what you see.


Don't base your selection on price only
Selecting a contractor because he offers a low price is one step towards regret. Price matters, but it should be compromised for quality.

Save yourself the headache of having to re-do the roofing project at some other time because you chose price over quality at some point.

Check for contractors that are underbidding in a quest to win the project. You can do a market analysis too. Get to know how much quality materials cost for your project to know how much the project will cost.

Choose a convincing contractor even if you have to pay more than what other contractors ask.


Be objective
This is one of the biggest mistakes people make when selecting contractors for their building projects. When it comes to roofing or any building construction, giving in to bias and sentiments may not give you the best result.

Don't choose a contractor because he's a member of your church; or your neighbor. Do your research and go for the best roofing service.

Put it in writing
Once you've made certain agreements on the project, it's better to put those in writing. The document shows that you and the roofing company have a clear understanding of all expectations.

This will help when any issue ensues during implementation. Also, it's better to have the right understanding when it comes to. This helps to put the roofing company in check.

Call Golden Hammer Roofing For Your Roofing Needs
You don't need to fret about your choice of roofing contractors! We're sure that if you implement the tips pointed out in this guide, you'll end up with the perfect choice.

It's your project, so don't let anyone pressure you into making a bad choice. Carefully and objectively select the best roofing contractor in your area. Go for that one that is tested and trusted.

If you are looking for a free estimate on your new roof or roof repairs in the Saint Augustine area, reach out to our team today.

Our team is in FL, specializing in providing roof repair, new roof installation, roof replacement, and quality work for roofing services. Our family-owned business will help you repair or replace your old roof to get your property up to par. We will be here to walk you through the entire process and do an excellent job.

Need help with your home project in Saint Augustine?

Call us today at (904) 880-2004.