Gutter Installation in Jacksonville, FL
Gutter Installation
Golden Hammer Roofing is also a full-service gutter company with professional gutter installers ready to provide you with flawless gutter installation, cleaning, and repairs. We service Jacksonville and surrounding areas, including Orange Park, Keystone Heights, Fleming Island, Green Cove Spring, Saint Augustine, Palm Coast and North Florida.
We understand that your North East FL home is your biggest asset, and as the "Gutter King," we want to work with you to make sure it stays dry, comfortable, and beautiful. Whether you need seamless gutter install and downspouts for your residential or commercial properties, gutter repair, or gutter protection, we guarantee an outstanding job. Call us to request a free estimate for your next installation job.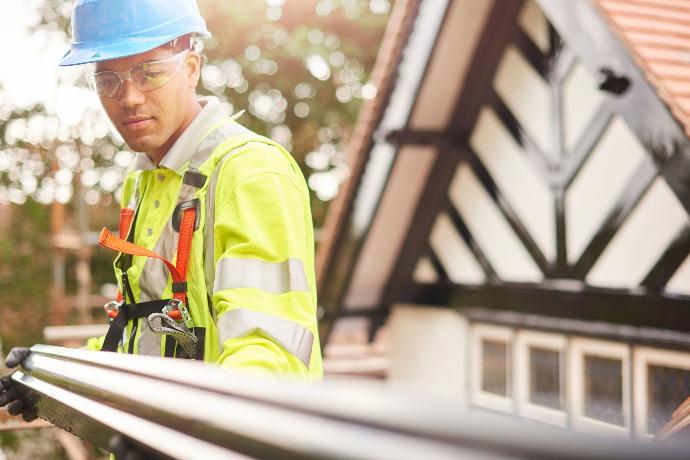 Seamless Gutter Installation Service
Golden Hammer Roofing is a trusted gutter contractor and has completed hundreds of residential installations, repairs, and maintenance work. No job is too big for our company. We can scale to match your needs while keeping your roofing project on schedule and within budget.
Our experts can install seamless gutters to protect your house or property from water damage. We offer premium rain gutters and downspouts in a variety of colors. Custom lengths are made on the job site. If you need gutter filters and protection, we've got you covered as well. Call us at (904) 880-2004, and our service professional will help.
Why Choose Us for Gutter Installation in Jacksonville, FL​
Golden Hammer is a reputable gutter contractor with an outstanding track record in North East Florida. Some of the reasons to hire us for rain gutters installation and repairs include:


Professional installation:

We perform the standard gutter installation using industry-approved materials and follow the best practices to ensure you get a positive outcome with your new gutters.

Excellent workmanship:

Our years of experience in installing seamless gutters and performing repairs. We assure you of quality work with every project.

Customer satisfaction:

We have completed hundreds of gutter installations in Jacksonville Beach, and our customers keep coming back because we do a great job.

Locally owned Veteran gutter company

: We have been serving Jacksonville and surrounding areas for many years and understand the gutter installation needs of residents and business owners. As a locally operated business, we can reach you wherever you are in Green Cove Springs, Fernandina Beach, or Northeast Florida.

Durable gutter materials:

Our 6-inch oversized seamless gutters come in different colors. Our rain gutters can last up to 30 years, provided you take good care and clean them regularly.

Certified service professionals:

Our roofing technicians have industry certifications and can provide you access to superior products and materials from top brands.

Manufacturer and labor warranties: As a reputable contractor, we always stand behind our work and take responsibility for any labor defects. Our comprehensive warranties also cover the materials we use, ensuring you never incur a financial loss to defective materials or improper installations.

Affordable price:

Compare quotes for installing gutters or repair services in North East Florida as far south as Palm Coast, and you'll realize that we offer the most reasonable price gutter installation. Our competitive rates and flexible financing make it easier for homeowners to budget for their home improvement.

Free estimates:

We provide customers with no-obligation quotes for their gutter project. Whether you need seamless gutters installed or half round systems, our experts will install gutters that meet your budget, schedule, and project needs.

Extra services:

We can also provide gutter cleaning services and perform time repairs on rain gutters.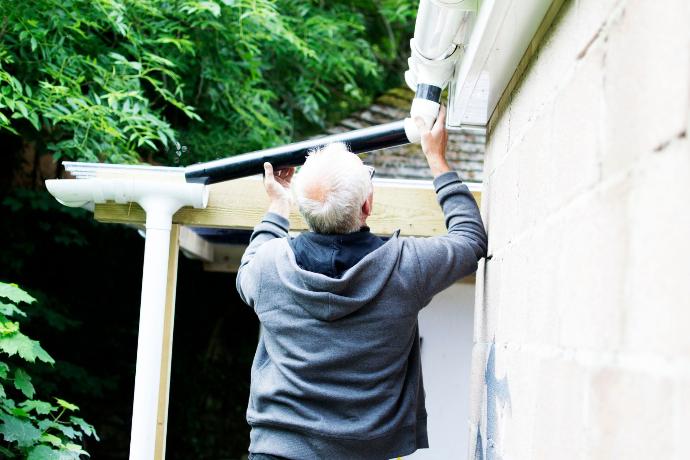 Gutters Installed to Match Any Home
Golden Hammer Roofing provides a range of top-of-the-line seamless gutter solutions that move water safely away from your home. Our gutter professionals can recommend superb gutter materials that suit your style and budget.
Choose from a wide variety of colors to match your home's color scheme. Each gutter system is tailored to match your home or commercial premises. Our roofing technicians measure and install each piece of the gutter system on-site. We ensure gutters and downspouts are the right sizes to accommodate huge volumes of water without filling up or overflowing while looking proportional to your home or building. We combine gutters with end caps, miters, and screws with matching colors for that finished appearance. We can normally complete your installations within one day. Contact Golden Hammer Roofing to explore your options for rain gutters and learn more about our installation services.
Lifetime Gutter Protection for Seamless Gutters
Even the most robust gutter system on the roof can wear out and fail if the gutters and downspouts are clogged by leaf matter and debris. Climbing a ladder to muck out the messy gutter is a dangerous and thankless job.
If no one does it, your gutters will clog, and water may back up and makes it down the walls into your home, where it can cause significant damage. We strongly recommend that you add leaf guard protection to your existing gutters or new installations. A protective cover keeps water flowing by preventing falling leaves, twigs, and debris from collecting in the gutter system. Best of all, you will rarely have to climb your ladder to check or clean the gutters. Call us to find out more about our effective gutter protection for existing gutters.
Do you need flawless gutter installations or gutter cleaning services? Schedule a Free Consultation with Golden Hammer Roofing
When it comes to rain gutters installation and repairs in Jacksonville, Fl, you can't find a better equipped and experienced team of installers than Golden Hammer.
We have over two decades of industry experience, unwavering commitment, and unmatched expertise earned us accolades and praise from customers. We care about customer satisfaction and take all the time to walk you through our gutter solutions to make a smart choice for your house. If you need a seamless gutter installation in Jacksonville Florida, contact Golden Hammer Roofing at (904) 880-2004 for a free estimate. Our experts can help install new gutters and repair existing gutters so they can do their job properly.